All you need to know about Calf Slimming Injections
How can you get slim sculpted calves at home?
Calf muscles belong to those muscle groups that only a few people work out separately. However, it is noteworthy to accept that just like you cannot spot reduce belly fat, you cannot also focus solely on contouring your calves. In most cases, you have to follow a workout system that may include a combination of exercises.
Here are some workout strategies that you may want to consider in slimming your calf muscles:
Cardio workouts like running and sprinting can help you burn fat while also increasing muscular endurance in your calves;
Jump rope can help you burn serious calories while building endurance in your calves;
Exercises that strengthen and tone your calves including standing calf raise and plyo lunges; and
Leg press and extend barre.
While these exercises may help strengthen your muscles and burn calories, there is no guarantee that your calf muscles will get slimmer. Thus, the cosmetic industry offers surgical and non-surgical procedures in achieving slimmer calf muscle.
Calf Muscle Slimming Treatments
To get a clearer picture of how a calf slimming treatment work, it can be helpful to understand a little of the anatomy of your lower legs. The human calves are made up of two main muscles, the gastrocnemius and the soleus.
The gastrocnemius is the larger of the two muscles and this calf muscle creates the familiar bulge on the back of your lower legs. The soleus, on the other hand, is the flat small muscle located below the gastrocnemius. The gastrocnemius is typically the focus of most calf slimming treatments.
Some treatments available for reducing the bulk portion of your calf muscle include the following:
Calf Reduction Surgery
Traditional surgical procedures for calf reduction mostly involves removing excessive gastrocnemius or the bulk muscle of your calf. The procedure includes removing only a part of the muscle to maintain the natural appearance of the calves.
Since this treatment involves incisions, cuts, and stitches, it may take longer than 8 weeks to recover. Although the healing process may vary from one patient to another, you should also consider that your strength may decrease slightly in your legs after this procedure.
Neurectomy
This is another surgical procedure that aims to treat the size of your calf by cutting the nerves behind the knee. By cutting the nerves that supply stimulation to your calf muscle, it becomes atrophy over time, hence, gradually slimming down your calf.
This type of calf slimming surgery entails the careful hands of board-certified and highly skilled surgeons. And since it involves incisions, nerve cuts and stitches, patients should be open to the idea of getting risks complications and side effects.
Calf Liposuction
This calf fat reduction surgery is considered the ideal option for a fatty calf. This procedure involves creating incisions for the liposuction sites where thin cannulas are inserted for fat extraction.
After your doctor evaluates the condition of your calf, and it shows that your calf bears excess fat, liposuction may be the best choice to effectively treat or remove the excess fat from your calf. However, this procedure is not recommended for a leg with bulk muscle as muscle cannot be liposuctioned.
CoolSculpt Calf Slimming
This treatment involves calf slimming injections that essentially "freeze" the calf muscle. When the serum is injected, the muscle freezes, and it is hampered from contractions, hence, it will naturally shrink over time. This calf slimming treatment is not permanent as this slimming substance will naturally flush out of your body.
Calf Slimming Injections
Calf slimming injections offer amazing benefits while achieving slimmer and more feminine calves. This treatment involves the numbing and relaxing of the calf muscle to stop it from functioning which in turn shrinks the calf.
When the slimming agent is injected into the calf muscle, it blocks neurotransmitters that are being sent to your calf muscle to cease it from excessive muscle contractions. However, patients should expect muscle buildup in the future as this treatment offers temporary results.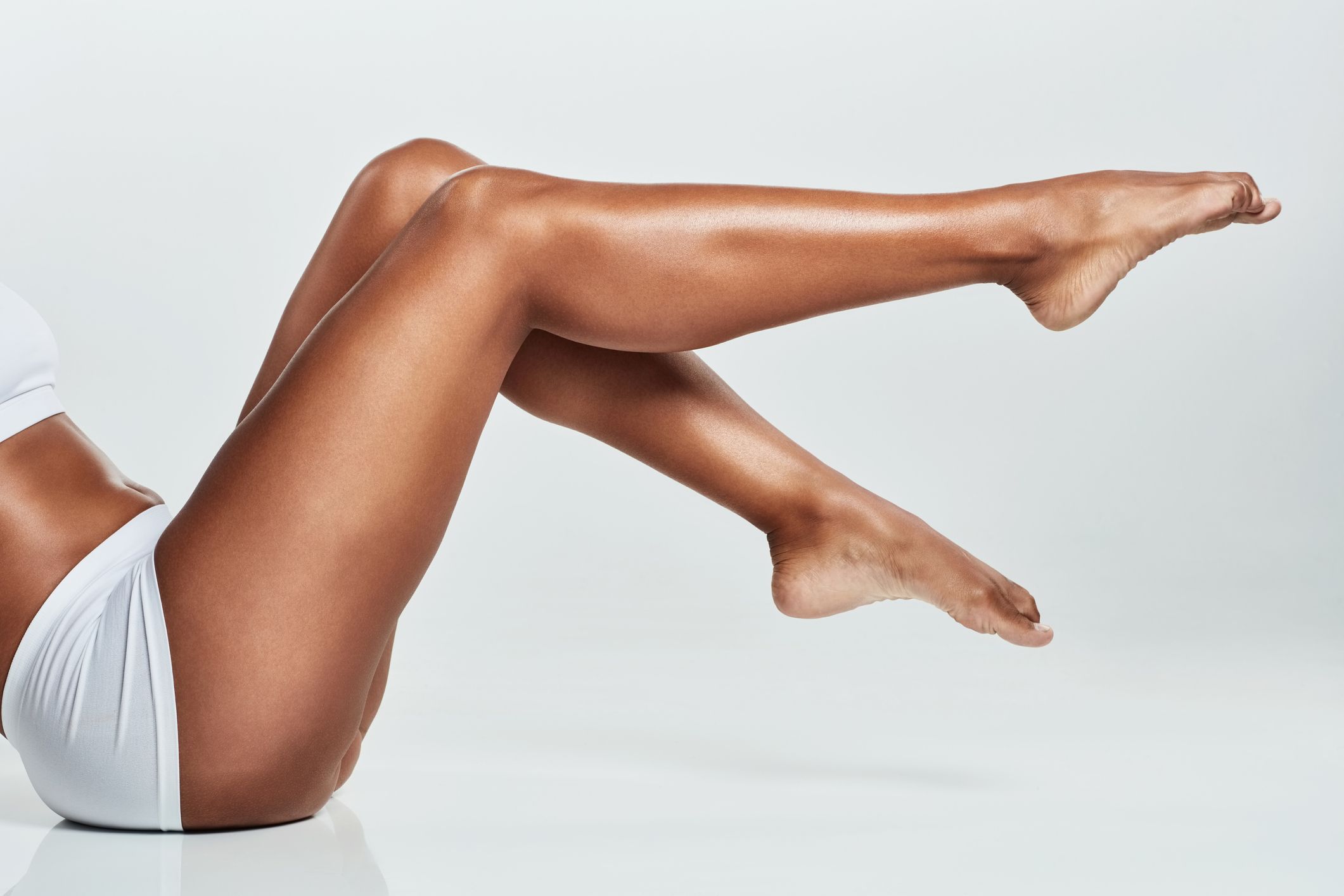 Calf Slimming Injections vs. Calf Slimming Surgery
While both types of procedure offer amazing results for leg size reduction, slimming injections are minimally invasive that offers little to no downtime. Whereas calf slimming surgical treatments involve incisions, cuts and stitches that may result in longer downtimes like severe swelling, bruising and redness. It may also include mild to moderate bleeding.
Similarly, since surgical procedures for calf slimming involves muscle or nerve removal, some complications and side effects may arise. Calf slimming injections are minimally invasive that no risks of complications.
The recovery period for calf slimming injections is approximately 6 weeks, while it may take more than 8 weeks recovery for surgical procedures.
Are calf slimming injections safe?
All calf slimming injections procedure are performed in a clinic by a professional cosmetic doctor. Thus, to ensure that you get safe and effective calf slimming injections in Australia, it is best to set an appointment for a consultation with your trusted skin clinics in Melbourne.
Patients may call SKIN CLUB Cosmetic Doctors from Mon to Sat enduring our opening hours and book for a consultation. Your consultation appointment may be scheduled between Mon-Fri in any of our clinic locations in Melbourne, Australia.
Does it hurt to get calf slimming injections?
Just like any other minimally invasive injections, calf slimming treatment starts with the application of a topical sedative or a numbing cream to reduce any discomfort during the procedure. This provides a virtually pain-free treatment while achieving a slimmer and beautiful calf contour.
After the treatment, your doctor may apply a cold compress on the treated area to reduce any signs of swelling and bruising. These minimal downtimes will immediately resolve on their own within the next 24-49 hours.
To ensure a painless recovery time, your doctor may recommend a gentle application of a cooling gel patch on the treatment site. For patients who have high pain sensitivity, you may ask your doctor for a topical or oral pain reliever.
How long does it take for a calf slimming injection treatment to complete?
Calf slimming injections are easy, fast, and safe to administer. On average, the treatment or injection process can be performed in about ten to twenty minutes. The procedure takes about half an hour from the application of the anesthetics to the application of a cold compress.
How can you find a calf slimming provider you can trust in Melbourne?
With the evolution of technology, any person can find what they need through the internet. Similarly, you can search the internet for clinics in Melbourne that offer quality, affordable and safe calf reducing injections.
After you search for calf injections in Melbourne, check and review each website and see what they have on their menu. Check their locations and find one that is near you. Read their patient or client review panel to help you understand what they can offer.
After your search, call the phone number of the clinics near you and schedule an appointment. In most cases, clinics around Australia are open from Mon to Fri and even Sat for some.
How much do these calf injections cost?
On average, the cost of one calf injections treatment is around $1,500.
This cost may vary for each patient. Remember that the cost you see on a clinic website is usually an approximation or a starting price. Doctors may need to conduct an evaluation of your calf muscle condition before providing a full price quote.
Your doctor will review the appearance and texture of your calf to know what treatment will work well with you. The cost of the treatment depends on the cause of calf bulk, whether it is caused by muscle or fat. The number of injections needed, and if there are other procedures needed to achieve your calf contour goals.
Can you just walk in for a calf injections consultation?
Most skin clinics in Melbourne welcome a walk-in patient for a better consultation process. A patient may visit their trusted clinic during opening hours from Mon to Fri. A patient may also call the phone number of the clinic Mon-Sat and schedule an appointment or book for a consultation.
You may book a consultation on calf slimming injections in Melbourne by visiting SKIN CLUB Cosmetic Doctors or calling the clinic from Mon- Fri.