All you need to know about Cellulite Treatment
Self-motivated Cellulite Reduction Remedies
Regular Physical Activities
Get moving! Exercise is always one of the best cellulite treatments that can make your muscles strong while making those lumpy areas look more even. A brisk workout can help tone your muscles leaving no room for the skin to loosen and for cellulite to form.
Eat Fruits and Vegetables
Eat more fibre! This can be found in most whole grains, fruit, and vegetables. Eating bread, candy, and soft drinks that contain simple or "refined" carbs can add calories and lead to fat accumulation, especially in cellulite-prone areas.
Shed a Few Pounds
Lose some weight! Skinny or plump, you can acquire cellulite but extra weight often makes it more visible. Try to lose weight slowly if you are in the overweight category. Remember not to go on a crash diet as this practice can make cellulite look worse.
Stop Smoking
Kick the habit! Every puff affects your supply of blood and oxygen to the body. It gets thinner and loses elasticity, hence, more likely to sag. This creates the cellulite on your arms, thighs, and bottom more visible. If you are having difficulty stopping the habit, you may seek your doctor's prescription for an anti-smoke patch.
Massage the Dimpling Zone Away
Massage cellulite away! Take a few extra minutes every day to give these dimpling areas a firm rubdown. Massage improves blood circulation and gets rid of excess fluid, which may make cellulite marks less noticeable.
Creams and Lotions
Feed your skin! Cosmetic researches show that some creams and lotions offer remarkable cellulite reduction effects. However, you have to make sure that the cream you are using contains about 0.3% retinol and be diligent in using it.
Appearance of Cellulite
Why does this cellulite appear?
Cellulite is caused by a buildup of fat in your body tissues. The distribution of fat in women is more visible than in men. Cellulite can become more visible as you age and your skin becomes thinner and loses elasticity. This exposes the rippled connective tissues underneath.
Here are some reasons why cellulite appears:
Hormonal changes;
Ageing;
Poor eating habits;
An unhealthy lifestyle;
Body fat percentage;
Accumulated toxins;
Genetics;
The thickness of your skin;
Weight gain;
Inactivity; and
Pregnancy.
What cellulite treatments really work?
Acoustic Wave Therapy
This Melbourne cellulite treatment can reduce the appearance of cellulite.  It improves metabolic processes and blood circulation. The new formation of blood vessels or increased cell proliferation results from the shock and acoustic waves of this cellulite treatment.
Laser Treatment
Different types of treatments are used to treat cellulite. This non-invasive Melbourne cellulite treatment uses a tiny laser fibre inserted beneath your skin. The laser heat energy breaks up the tough bands beneath the skin that causes cellulite.
Laser treatments also help thicken the skin which in turn reduce the appearance of cellulite. This cellulite treatment offers reliable results that can last for a year or longer.
Fraxel Laser Treatment
When used on the tissues, Fraxel laser resurfacing emits small beams onto the skin, creating thermal damage. The damage in the tissues induces collagen production to reduce wrinkles, dimpled scars and discolouration in the skin.
Subcision
This Melbourne cellulite treatment is a simple surgical procedure that is performed by inserting a specially designed needle under the skin after local numbing sedation is applied. The inserted needle tends to break up the tough bands underneath the skin that cause us to see cellulite.
Radiofrequency
These types of Melbourne cellulite treatments heat the cellulite with an FDA-approved device that combines radio-frequency with laser, suction, and massage in targeting cellulite. However, the results are short-lived and one session may not be enough to see this minor change.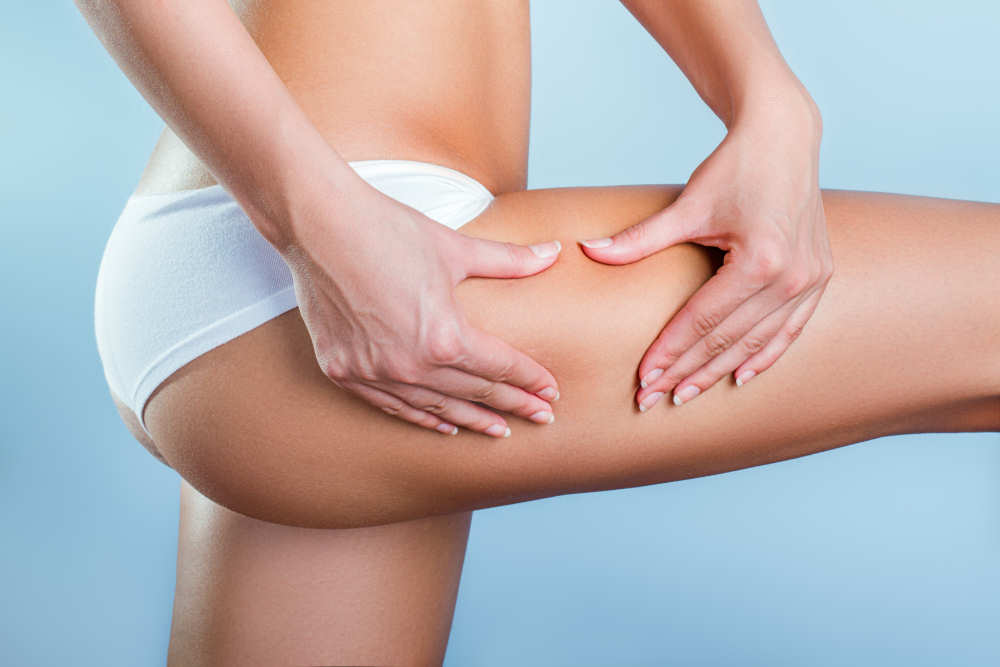 Frequently Asked Questions
What are fat cells and fat deposits?
Fat cells are cells that primarily compose adipose tissue, specialized in storing energy as fat, hence, also referred to as adipose cells or adipocytes. Fat deposits, on the other hand, are loose connective tissue composed mostly of adipocytes.
How are fat cells and deposits related to cellulite?
If these fat cells protrude into the layer of the skin, they give the appearance of cellulite. Thus, cellulite appears to result from an interaction between the fibrous and connective tissue in the dermatological layer that lies below the surface of the skin, and the layer of fat that is just below it.
How to get rid of cellulite?
There are surgical and non-surgical cosmetic procedures that can help cellulite removal in Melbourne. A patient who wants to get rid of cellulite may consider any of these procedures:
Fat reduction technique such as acoustic wave therapy, carboxytherapy, Laser and radio-frequency treatments, and vacuum-assisted precise tissue release;
Cryolipolysis, CoolSculpting, or freezing the fat cells underneath the skin;
Lymphatic drainage or a manual massage technique that works on the lymphatic system;
Skin tightening approaches such as thermal radiofrequency that tightens the skin by stimulating collagen;
Body treatments or body contouring serums;
laser-assisted liposuction but not liposuction alone; and
Surgery or procedures that use needles, blades or other special tools to separate the fibrous bands in the tissues.
What happens during a cellulite reduction consultation?
During your consultation, your cosmetic doctor will ask you to answer some forms to aid him or her in developing a cellulite treatment plan that will specifically address your cellulite reduction needs. Your doctor will thoroughly evaluate your skins, fat, tissue, and cellulite condition to ensure the recommendation of the most appropriate treatment for you.
Your doctor will then recommend the best Melbourne cellulite treatment that can provide a smoother and cellulite-free body. If your doctor deems fit that there is a need to increase the need for collagen, he or she will recommend a cellulite treatment that stimulates collagen production such as radiofrequency cosmetic technology and vacuum-assisted precise tissue release treatments.
You can visit your trusted Melbourne clinic or call your doctor for a free consultation.
How long does a Melbourne cellulite reduction procedure last?
A Melbourne cellulite treatment is typically non-surgical and minimally invasive. Thus, each cellulite treatment can be performed in 20 to 45 minutes depending on the type of procedure, the severity of cellulite accumulation, and if the patient has undergone previous cellulite treatment.
A Melbourne cellulite treatment is usually performed in a clinic where the latest cosmetic technology is guaranteed to provide amazing results. If your doctor deems fit that one session of cellulite treatment is not enough, he or she will discuss this with your thoroughly.
Is there a difference in cellulite treatment for men and women?
In essence, women are more prone to cellulite conditions. This is because women naturally have thinner skin than men do and they tend to store fat buttocks and abdomen. Thus, women are more likely to suffer from cellulite, hence more likely to undergo a cellulite removal treatment or surgery.
For patients who want to have a cellulite treatment with amazing results, contact your trusted clinic in Melbourne today!
Is a cellulite treatment safe?
Cellulite treatment typically undergoes some tests and processes approved by dermatological associations and by the Food and Drug Administration or FDA. Thus, patients can be worry-free in getting a cellulite treatment. However, it is always best to call your trusted cosmetic doctor for the best treatment that can specifically address your cellulite woes.