All you need to know about
Skinclub PRP Injections
Platelet-rich Plasma
Platelet-rich plasma or PRP is a substance that is believed to offer numerous benefits in health, surgery, rehabilitation, and treatment. This substance promotes optimum healing to the body when injected into the affected tissue or cells.
Research shows that PRP has proven benefits to the human body. It uses the body's own plasma to support and stimulate natural health regeneration, tissue renewal, and cellular growth.
Plasma vs. Platelets
The human blood consists of four main elements: plasma, red and white blood cells, and platelets. Plasma is the liquid fraction of human blood and it is composed mainly of water and proteins. It provides a means for red blood cells, white blood cells, and platelets to freely flow through the human body.
Platelet, on the other hand, is responsible for blood clotting and the body's healing procedure. Platelets are also referred to as thrombocytes which are vital in mending wounds and injuries. Platelet activation plays an important role in the natural process of recuperating.
The body possesses an unlimited supply of plasma and platelet, hence, providing patients with practically endless access to the needed growth factors to heal faster. Thus, the introduction of PRP injection or the application of an extremely high concentration of platelets can help individuals with elbow, knee, tendon, and joint injuries.
Platelet-rich Plasma Injections
Platelet-rich plasma (PRP) injections are a concentration of a person's own platelets to stimulate faster healing of injuries on a person's tendon, ligament, muscle, and joint. This way, PRP injections help treat individuals using their own healing system while improving musculoskeletal problems.
Preparation of Platelet-rich Plasma (PRP) Injections
PRP injections are prepared by drawing a few tubes of a person's own blood. These are then processed through a fully automated technology that has the capacity to deliver platelet concentrations with adjustable leukocyte concentration.
These activated platelets are then injected directly into the patient's injury or diseased tissue which in turn will promote healthy tissues and increase the number of reparative cellular functions.
PRP injections are used in a wide variety of treatments and medications, including physical therapy, sports medicine, pain rehabilitation, osteoarthritis treatment, anti-inflammatory treatment, and other forms of medications that need faster recovery and cell renewal.
Platelet-rich Plasma Therapy
Platelet Rich Plasma (PRP) therapy is one of the most advanced and innovative treatments for pain management. It helps in treating most fractures and other musculoskeletal conditions such as knee osteoarthritis, tennis elbow, arthritis, chronic injury to the elbow, knee, shoulder, neck, and other joints.
This is a non-surgical procedure that provides fast, effective, and long-lasting relief from pain and discomfort to the treated areas of the body.
PRP therapy is a type of medication and health rehabilitation that provides an optimum healing procedure to injuries while promoting mobility and functionality. This treatment uses autologous blood with concentrations of platelets above baseline levels that contain several growth factors.
Benefits of PRP Therapy
Platelet-rich plasma treatment has significantly enhanced the healing process for most musculoskeletal conditions and other soft tissue damage.
Here are the benefits of our PRP therapy:
Helps treat several types of tendon injuries;
It offers amazing pain relief for arthritis;
Provides symptomatic relief for knee osteoarthritis;
PRP treatment effectively heals and reduces inflammation;
It promotes better recovery in sports medicine;
Offers minimally and simple invasive intervention;
Poses long-lasting relief for many cases of low back pain;
It aids in optimizing results for knee surgery and other tendon issues;
Accelerates the recovery period for torn ligaments or ligament sprains acquired from sports, occupational or other accidents;
Reduces joint degeneration, tissue deterioration and pain progression.
PRP Injections Procedure
This procedure begins with the drawing of blood samples from your body. A small amount will be initially used for a blood test and about 20ml of which are placed in a centrifuge machine to produce the platelet concentrations with adjustable leukocyte concentration. This separation method will take about fifteen minutes to complete.
When the plasma is ready, your doctor will administer the PRP injection into the affected part of the body using an imaging machine with ultrasound guidance technology. This can help pinpoint specific areas for injection, especially the areas with highly complex structures. It takes about one hour to complete the entire PRP treatment.
PRP Injections for Cosmetic Procedures
Is PRP the secret to younger healthy-looking skin?
Platelet-rich plasma injections have been widely used in various medical settings, including heart surgery, sports medicine, pain medications, anti-inflammatory treatments, and chronic wound care.  However, in recent years, PRP injection has become a "trending therapy" in aesthetic enhancement procedures.
PRP injection can help aid in the following cosmetic issues:
Wrinkles on the forehead;
Fine lines around the eyes;
Dark circles under the eyes or tear troughs;
Acne and acne scarring;
Mild sagging of the skin;
Nasolabial folds;
Is PRP injection safe?
Since its discovery in the 1990s, PRP injections have been proven safe because it uses a patient's own plasma. After the PRP treatment, you will experience mild pain, bruising, and swelling on the site where injections were inserted but will be resolved within a few days.
The biggest risk that comes with this treatment is the handling of your blood. The samples must be kept sterile to avoid the risks of infection.
In most cases, the entire PRP therapy is completed in a single clinic or facility. The same doctors will handle your case from initial consultation until post-operations.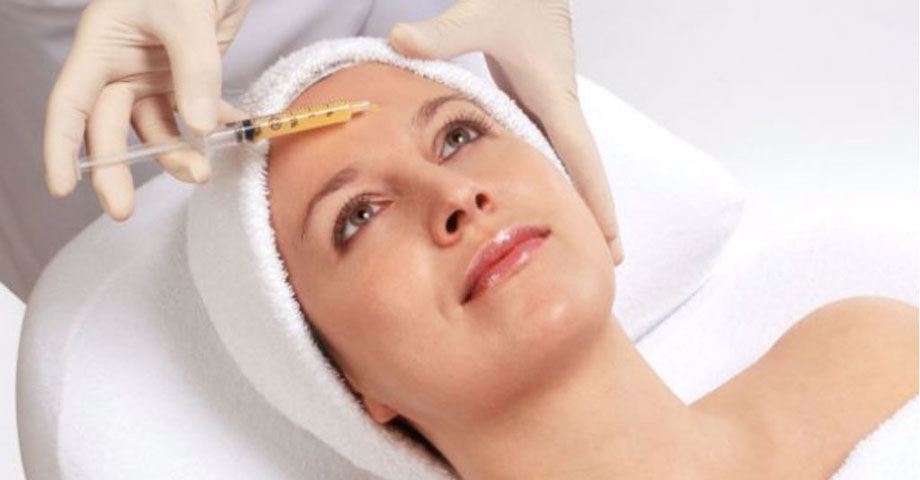 How long does it take to see results?
The final results of PRP will be noticeable within a few weeks to about one month following the procedure.
How many PRP injections do you need?
On average, it takes about three or more PRP therapy sessions for a patient to get optimum results. In some cases, cosmetic doctors may recommend combining PRP with a dermal filler for more efficient and long-lasting effects.
Multiple PRP Sessions
In case you need multiple platelet-rich plasma therapy sessions, they will be scheduled in three months intervals. However, it is always best to seek medical advice from your trusted cosmetic doctor to ensure that you get optimum results.
How long do the results last?
Typically, the effects can last as long as eighteen months or more. This depends on the type of treatment and the site where the injections are administered.
Is Platelet-rich Plasma right for you?
Patients who are experiencing chronic pain, sports injury, osteoarthritis, and other musculoskeletal conditions can be good candidates for platelet-rich plasma treatments.
For individuals seeking cosmetic enhancement through platelet-rich plasma, it is best to consult your cosmetic doctors.
Candidates Who are NOT PRP Therapy-ready
If you have thyroid disease or lupus;
individuals who are taking medications that may adversely affect the platelets; and
Those who have experienced long-term hair loss and those with complete hair loss.