All you need to know about
Skinclub Stretch Marks Treatment Laser
What are stretch marks?
While it can affect people of all ages and skin types, a high percentage of women get stretch marks during pregnancy as the body changes and grows. Other significant causes of stretchmarks are extreme muscle-building, puberty, and considerable weight gain. Rapid weight gain is usually the most common cause of stretch marks.
Typically, you can recognize a stretch mark through the lines or bands that form when the skin's connective tissue stretches and breaks apart. Over time, they could fade to a white, purple, silvery, or wavy red colour. They can show up almost anywhere on your body, including close to the armpits, groin, thighs, hips, abdomen, lower back, chest, and arms.
Although a stretch mark is not physically painful, it can harm a person's self-esteem, hence the need to search for an effective way of getting rid of them. The good news is that there is a proven way of getting rid of them completely, which is through laser treatment.
How does laser therapy work for stretch mark removal?
Laser treatments help in getting rid of stretch marks medically. It mostly involves using lasers to penetrate the dermis and cause the growth of collagen. Collagen is that cool guy that gives your skin some structure. With laser therapy, healthier skin replaces the top layer of skin that disintegrates. This is one thing that makes them a very safe method of stretch marks removal as they let the skin heal itself.
It also helps that they are incredibly painless, so you don't have to worry about discomfort while you treat stretch marks. There are lots of other benefits associated with this stretch mark removal method. They do not have a negative effect on your daily life as you can get back to your normal activities immediately after the procedure.
There's nothing like the groggy effects of anaesthesia or a lengthy recovery period. Apart from this, there is a higher level of satisfaction as people report that it is more effective at stretch mark removal than most creams. There are several types of laser treatments, with some being less invasive than others.
This method of removal for stretch marks has had great success so far, but results may vary based on how long you have had the stretch mark, how visible they are, your overall health, and age. While some notice a change in appearance after the first few treatments, others may take as long as ten sessions to get better results.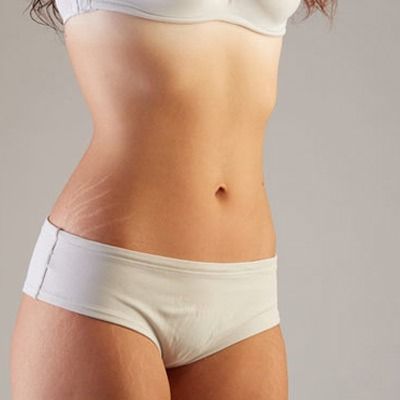 How much does the laser treatment cost?
There is no specific price tag associated with laser stretch mark removal as there are different time requirements for various parts of the body. However, a non-ablative procedure could be as high as $1300 per treatment, while an ablative procedure is about $2500.
Ablative procedures involve damaging tissues, while the much safer option that works on collagen is the non-ablative procedure. However, for a lot of people, opting for laser treatments is quite a stretch on their budget. So generally, this procedure is expensive.
Various laser treatment options
There are different types of laser treatment options that work on the appearance of stretch marks until they fade completely. Whatever laser mark removal method your dermatologist recommends will depend on the number of stretch marks and age. Common treatment types are KTP laser, pulsed dye laser, Fraxel, and fractional CO2 laser.
However, results have shown that fractional CO2 and Fraxel are effective against silvery and white stretch marks. This is the type of treatment that involves poking microscopic holes in the skin's top layer using lasers, which, in turn, stimulates the growth of healthy and new skin. On the flip side, KTP lasers and pulsed dye are great for purple or red stretch marks as they target damaged blood vessels in the skin without penetrating it.
What happens after your laser treatment?
Another question that may be on your mind is what to expect after undergoing stretch mark removal through laser therapy. It is common to notice that the skin feels a little tender, and there is redness in the treated area immediately after treatment. However, this is not a cause for alarm. On the contrary, it signifies that the top layer of your skin has disintegrated successfully, and it is a good sign as your new skin will grow to replace the old skin.
Your dermatologist will tell you how long it should take for the effects to fade and how you can keep your skin healthy during this "recovery." This is unique for each individual. Another temporary impact of the treatments is blistering, which clears away after a short while.
Overall, it could take as little as less than a week for your skin to heal entirely or take longer if your stretch marks are a bit more stubborn. However, the best part is that you won't have just done all of this for nothing, as it will permanently eliminate the appearance of stretch marks.
What are the other ways of getting rid of stretch marks?
Apart from the laser treatment option, there are other ways to remove stretch marks. You can opt for stretch marks removal via regular exfoliation. This is a method of removing excess dead skin resulting from stretch marks. Stretch marks can also fade away with topical treatments. This option is the most affordable compared to other methods and works by lightening the tone of the stretch marks instead of removing them completely.
Another option, where it targets the middle layer of the skin called the dermis, and this treatment method is known as micro-needling. It involves poking the skin with tiny needles to stimulate collagen production. However, all these treatments work best and produce amazing results when used alongside laser treatments.
You don't have to search endlessly for treatments for your stretch marks anymore. With this guide, you have a reasonable idea of the effectiveness of laser treatment in boosting new skin, and you can find out more about this by getting in touch with a trained dermatologist.
After the necessary evaluation and treatment, you can kiss your stretch marks goodbye as the lasers get rid of your stretch marks permanently. It's time to say hello to smoother and fresher skin. Getting rid of the stretch marks on your skin is also a major confidence booster.