What are the best lasers to remove acne scars?
Dr. Vi Sharma has worked in the field of cosmetic surgery
He has a Bachelor of Medicine & Bachelor of Surgery, Monash University; and former member of the Australasian College of Aesthetic Medicine and the Royal Australian College of General Practice.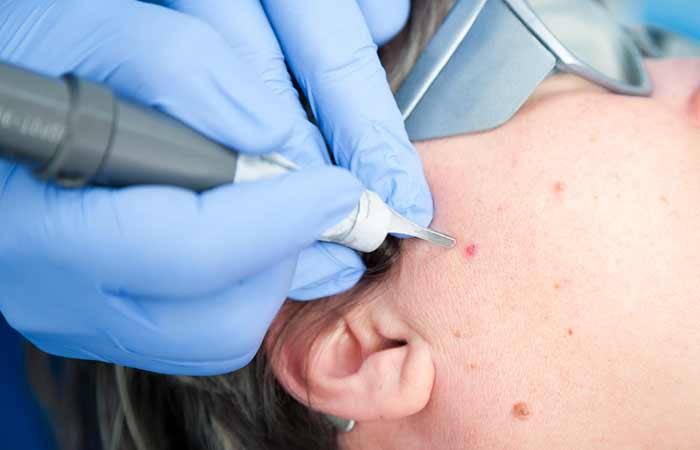 The options for skin care are increasing by the day. New and fantastic treatment methods are being discovered rapidly, and one that stands out is the use of laser treatments to improve our skin. Lasers have become incredibly useful in minimizing scarring after surgery, stimulating the growth of new skin cells and even treating acne. They help in the removal of acne scarring that forms from old acne outbreaks. While laser treatments may not eradicate scars, they certainly make them better by making your scars less noticeable. So, how can you take advantage of laser treatment for acne? Here are the details if you seeking the leading acne scarring treatment in Melbourne.
How laser resurfacing can help with scars
Laser resurfacing is effective for acne scars, which targets the scar tissue; it can also be used in treating injury scars, burn scars, and surgical scars. It is worth noting that laser treatment is safe to use on the face, so you don't have to worry about damage to your eyes. So, how does it work? The laser treatment works by penetrating the outer layers of your skin, which stimulates the growth of healthy skin cells. In the process, the laser gets rid of any damaged skin layer to give room for this new collagen growth. So, you could call it replacing an old scar with a new one, but this time, it's better-looking skin. While acne scars are not exactly harmful, you may need to remove them if they are limiting, painful, or not helping your self-esteem. Laser treatment for acne scars helps reduce their appearance and decreases itchiness. There are various laser treatment methods for acne scarring, and your doctor's choice will depend on many factors. During your consultation, these factors are determined to ensure that you will be getting the right type of laser acne scarring treatment in Melbourne. While some lasers only remove the top layer of the skin (ablative), others move deeper into the layers underneath the skin without affecting its surface (non-ablative). Another factor to consider when choosing your treatment method is your skin tone. Some lasers can make your skin become discoloured. Common laser treatment methods are pulsed dye laser, non-ablative fractional laser, intense pulsed light, and ablative fractional carbon dioxide laser. Due to these numerous options, your doctor will thoroughly evaluate your scars first and explain the potential benefits of your laser choice before going ahead with the treatment. It would be best if you kept in mind that you may need more than one laser treatment to achieve the desired result. This is common with non-ablative laser as it requires no downtime but takes as long as 10 days before you see results. Therefore, you can only get the best results with significant improvement when you undergo more than one treatment for your acne scarring. If your acne scars are quite deep, you may also get a filler.
Before and after your laser acne scar removal
There are some key things to note before and after your laser treatment. Before your acne scarring treatments, be sure to protect your skin from the sun. It would be disastrous to show up with a sunburn or tan, which will have a negative impact on the effectiveness of your treatments. You may need to make some lifestyle changes before your appointment to help you get the best results and heal better. Some of these lifestyle changes include quitting smoking, avoiding skin care products that contain glycolic acid and retinoid, avoiding the intake of supplements and medications known to delay healing, taking care of cold sores with the right medicines and giving up tanning. All these must be done at least two weeks before your treatment. After your acne scarring treatment, you may need to also stay away from the sun for as long as it takes your skin to heal. There is a possibility of developing another scar if you expose your skin to the harmful rays of the sun. For the next three months after your acne scar removal, use only oil-free makeup, and ensure that your skin is always well-moisturized. Your dermatologist may even give some other instructions to help you care for the treated area better and prevent the occurrence of side effects. Don't forget that it may take a while before you start seeing results. As with most skin treatments, there are also side effects of laser acne removal. You may experience swelling on your skin for as long as 48 hours after the procedure, itching for a few days, and the old skin peeling off for up to seven days. However, all these effects should clear up within three weeks, depending on your acne's size. The good news is that you don't need any downtime with this skin treatment, but it could cost as much as $800 per session. There are some rare risks worth noting that are associated with this treatment method. While you can use this procedure to reduce the appearance of acne scarring, you could also be prone to infection and hyperpigmentation. On the flip side, these skin conditions are quite preventable. You can work towards preventing them by having a detailed consultation session with your doctor before going ahead with the treatment for acne. All in all, the benefits far outweigh the cons as you will be giving your skin a chance to glow again with the best laser treatment. The laser heats the deep skin layers to stimulate the production of collagen that works wonders for your skin. Collagen helps in giving you smoother skin with a better appearance after your treatments. Now, you can be prouder of your skin as the laser treatments boost your confidence and eliminate scarring successfully.
At SKIN CLUB Cosmetic Doctors, we offer quality and top-of-the-line Melbourne acne scarring treatment for smooth, natural-looking and blemish-free skin.